One of my favorite responsibilities at Austin Public Library is creating and managing APLTV. The Central Library has several LCD screens around the building and in the bookable meeting rooms. A subgroup of librarians on the reference team develops content for eight of these TVs, known as APLTV.
I worked with an in-house programmer to create slide templates, which include a mix of text and slots for item covers and related videos. The backend is managed through Drupal. We plug in catalog records which pulls in the item images and metadata. A few description tweaks later, and we're in business–curated slides of content display on the screens for the enjoyment and intrigue of our customers.
I coordinate the content themes with our APLTV Team of eight using a sprawling production schedule in a shared spreadsheet. My co-manager and I trade off months loading the team's new content, which loops every 20 minutes or so, into two channels (we need not have unique content for all 8 TVs, oof!). We also select timely slides for What's Hot, which repurposes the content for consumption through our website.
We highlight the official themes chosen by our marketing team–things like Banned Books Week and National Hispanic Heritage Month–along with the library's strategic priorities, like STEM, Workforce and Economic Development and Equality, Diversity and Inclusion. Then we go to Weirdsville and let our imaginations run wild, weaving pop culture references with personal interests, promoting specific materials and broader resources, sometimes both at the time, like with my Bird Box slide:
I even pulled this off with Clean Off Your Desk Day, directing visitors to check out our temporary paperweight display:
We have some standard content that we refresh monthly, like our What We're Borrowing series:
Most content, though, is original each month, tied to our seasonal themes with creative hooks. I am particularly proud of this slide, which helped me win our traveling Triumphant Beast trophy in January, as voted on by the contributors of APLTV: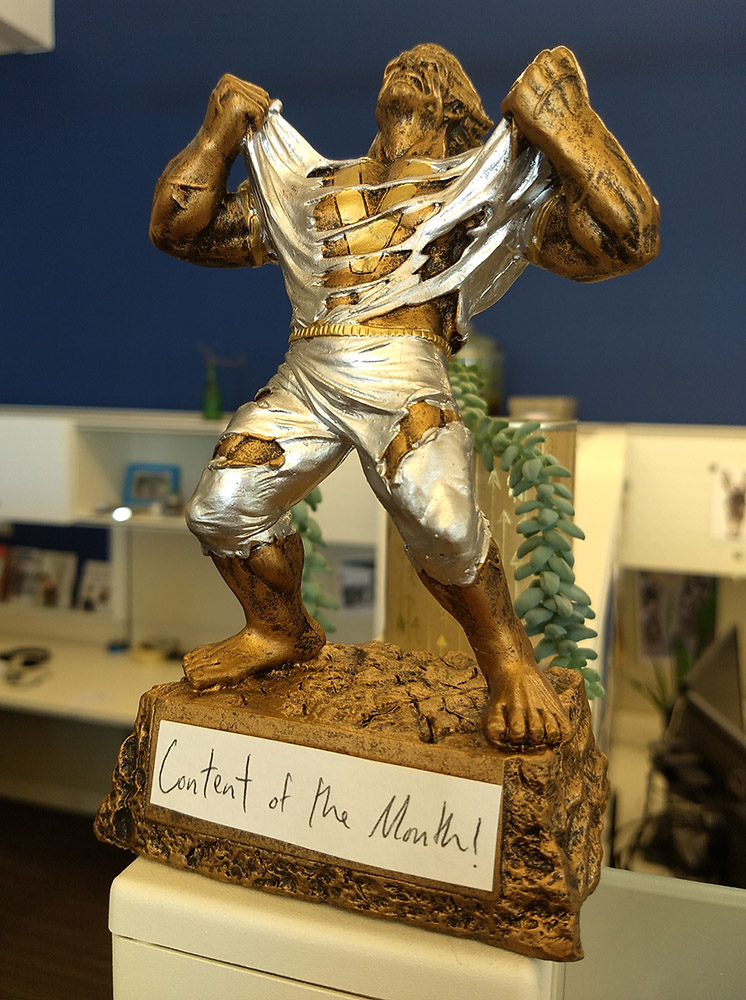 Here are a few more favorites. All examples in this post are my own: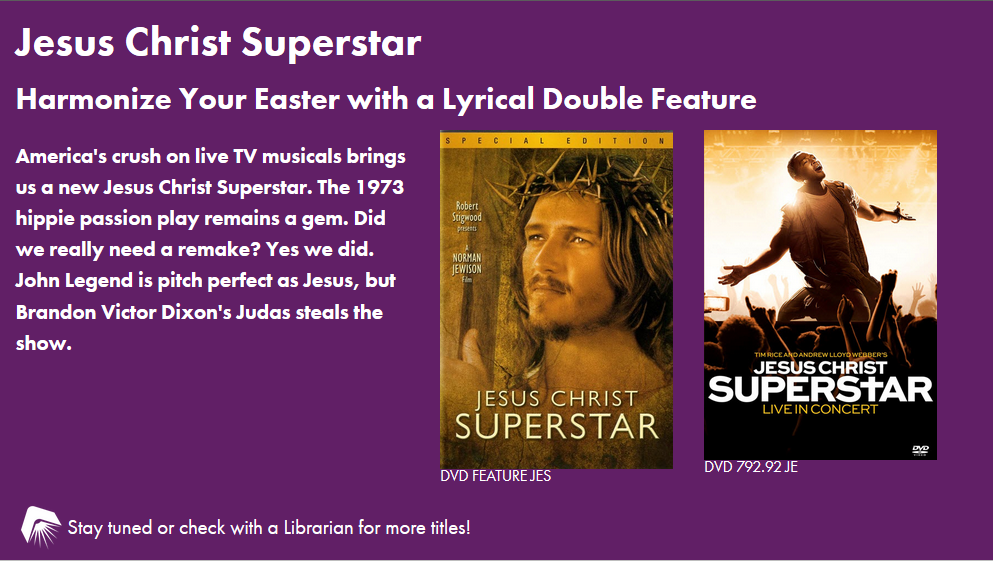 It's so much fun, and there's so much to love – the piles of dumb puns and irrepressible passion for books, films, music, information and community.